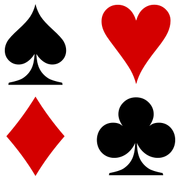 This is list of fanmade anime Card episodes.
Episodes
1. We can become idols?
2. Searcing for other members.
3. I don't believe I can be an Idol.
4. Mysterius, lonely girl. 
5. Will you join us?
6. Our team together.
7. The day is here. Now show what can the card do!
8. Flower and Shining.
9. Idol school here we come!
10. Beginingof our new life.
11. Flower cards.